We currently have 1 in stock.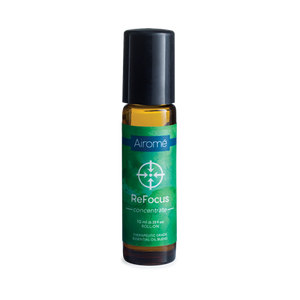 An herbaceous and woody blend of oils to calm and focus the mind. Use to encourage concentration or clarity. Apply when working or studying. Use during yoga or meditation to help put you in a peaceful place.
Airome Roll-Ons are designed to make topical use of essential oils convenient and clean.
Each roll-on contains 100% pure therapeutic grade essential oils, blended with fractionated coconut oil, so it's already diluted and ready to be applied.
Fractionated coconut oil is light, odorless, and blends well with essential oils.
Airomé Essential oils are certified 100% pure, therapeutic grade.
Use roll-ons to apply essential oils to the desired area as needed.